Contact us
Address:Jiangyan Economic Development Zone, Taizhou
Tel:15252656781
E-mail:1907913533@qq.com
Fax:0523-88151068
Website:http://www.jspydl.com
Product name:Diesel generator set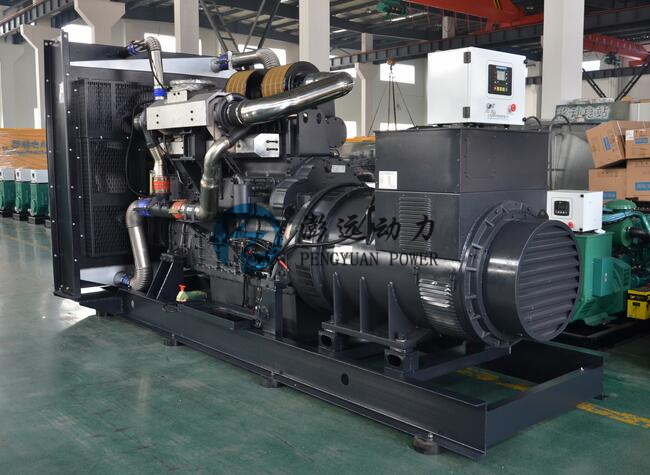 Brief introduction of diesel generator set:
The diesel engine power of Shanghai diesel generating set is produced by Shanghai diesel engine and Limited by Share Ltd. The 135 series diesel engine produced by our country is the earliest and most widely used model in china. Shanghai diesel generator sets mature technology, spare parts purchase, power range, power 40KW-650KW. The 135 series diesel generator is the earliest and most widely used domestically produced power in China. There are 4 straight cylinders, 6 straight cylinders and 12 V cylinders. Can meet the needs of different users of Dongfeng Diesel generator, its excellent power, economy, reliability, low operation cost and the country's three bags and accessories supply chain, the diesel generator set by users.
The characteristics of diesel generator set:
1 、 integral crankshaft, Longmen type body, flat cut connecting rod and short piston, the shape is compact and reasonable, and the matching adaptability is strong. It can be exchanged with the old 135 diesel engine;
2, using new necking combustion chamber, improve injection pressure, improve combustion process, to achieve environmental indicators: exhaust pollutant emissions meet the requirements of JB8891 - 1999, the noise meets the requirements of GB14097 - 1999, and there is margin;
3, lubrication and cooling system optimization design, reduce the number of external piping and parts, with the overall brushless AC generator, make the three leakage greatly improved, reliability greatly enhanced.
4, using J98, J114 type turbocharger, and has strong ability to work in the plateau, plateau area 5000m, power down less than 3%;
5, using high vacuum exhaust ejector, air filter, three stage low temperature cyclone Germany paper filter element ceramic penetration piston ring and other measures, the diesel engine used in the desert or high dust area, does not produce early wear.
The 6 and 135 series 138 series diesel engine is improved, the basic 135 parts in general, production of a large state enterprises in Shanghai power plant, power range 40KW800KW;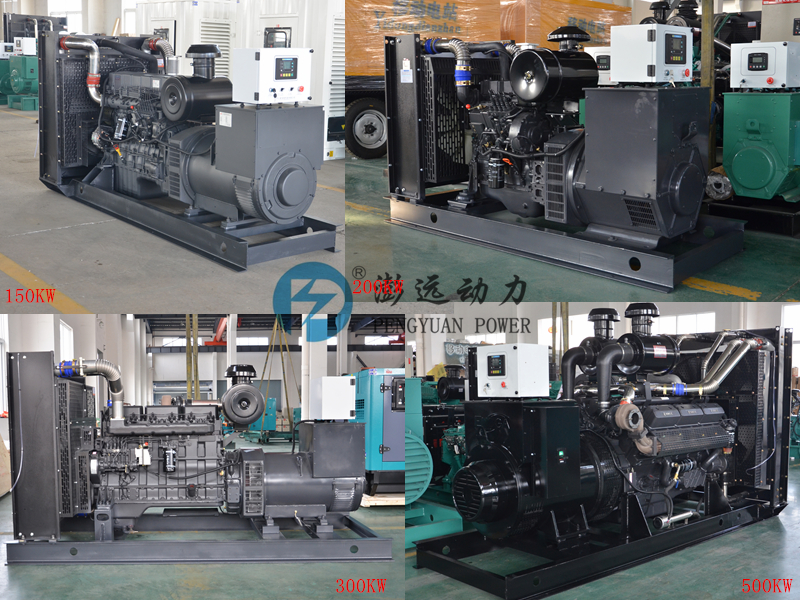 Diesel generator settechnical parameter Tel:15252656781
Model

Out Power(KW)

Current(A)

Diesel engine model

Cylinders

Bore * Stroke(mm)

Emissions (L)

Consumption (g/KW.h)

Size(mm L×W×H)

Weight(kg)

KW

KVA

PYS-50GF

50

62.5

90

SC4H95D2

4

105*124

4.3

204

2650*1100*1700

2300

PYS-75GF

75

93.75

135

SC4H115D2

4

105*124

4.3

204

2650*1100*1700

2300

PYS-100GF

100

125

180

SC4H160D2

4

105*124

4.3

198

2500*900*1500

2000

PYS-120GF

120

150

216

SC4H180D2

4

105*124

4.3

198

2220*840*1190

1200

PYS-150GF

150

187.5

270

SC7H230D2

6

105*124

6.5

199

2700*900*1750

2300

PYS-170GF

170

212.5

306

SC7H250D2

6

105*124

6.5

195

2900*1100*1600

2480

PYS-180GF

180

225

324

SC8D280D2

6

114*135

8.27

200

2800*900*1800

2400

PYS-200GF

200

250

360

SC9D310D2

6

114*144

8.82

195

2900*1200*1800

2500

PYS-220GF

220

275

396

SC9D340D2

6

114*144

8.82

195

3000*1200*1800

2600

PYS-250GF

250

312.5

450

SC13G355D2

6

135*150

12.88

200

3000*1300*1800

2800

PYS-250GF

250

312.5

450

SC13G420D2

6

135*150

12.88

200

3000*1300*1800

2800

PYS-300GF

300

375

540

SC13G420D2

6

135*150

12.88

200

3000*1300*1800

2800

PYS-300GF

300

375

540

SC12E460D2

6

128*153

11.8

192

3100*1350*1900

3200

PYS-320GF

320

400

576

SC15G500D2

6

135*165

14.16

200

3200*1350*1950

3500

PYS-350GF

350

437.5

630

SC15G500D2

12

135*165

14.16

200

3200*1350*1950

3500

PYS-400GF

400

500

720

SC25G610D2

12

135*150

25.8

202

3400*1500*1950

4200

PYS-450GF

450

562.5

810

SC25G690D2

12

135*150

16.8

202

3500*1500*1950

4500

PYS-500GF

500

625

900

SC27G755D2

12

135*155

26.6

202

3500*1500*1950

4800

PYS-550GF

550

687.5

990

SC27G830D2

12

135*155

26.6

202

3600*1600*2000

5000

PYS-600GF

600

750

1080

SC27G900D2

12

135*155

26.6

202

3650*1600*2000

5000

PYS-660GF

660

825

1188

SC33W990D2

6

180*215

32.8

205

4000*1600*2200

5200

PYS-800GF

800

1000

1440

SC33W1150D

6

180*215

32.8

205

4000*1600*2200

5200
1.以上技术参数转速为1500RPM,频率50HZ,额定电压400V/230V,功率因数0.8,接线方式为3相4线。60HZ发电机组可以根据客户的特殊需要定制。
2.发电机组可以根据客户需要,选用无锡斯坦福、上海马拉松、江苏澎远等知名品牌。

3.本参数表仅供参考,如有更改恕不另行通知